Goodbye Stanley
Posted on 14 January 2015
Good Bye Stanley, it was a blast.
Sean "Stanley" Leary, 23/08/1976 - 13/03/2014
In late November every year the excellent Kendal Mountain Festival takes place just down the road from my home in the Lakes . It's quite literally a knees up in a brewery with lots of amazing films, lectures and people and has become the annual tribal gathering of the UK outdoor world. If you've never been, get it in the diary for next year. It's brilliant.
For me this years festival was tinged with sadness as KMF 2013 was the last time I saw my best friend and climbing partner Sean "Stanley" Leary. The whole Ulvetanna, Antarctic crew were there to show our highly anticipated movie "The Last Great Climb" to a sell out crowd. What we didn't know then was that just a few months later Stanley would die in a wing-suit proximity flying accident in Zion, Utah and that our crew who had shared so many amazing adventures together would be gone forever. The NE ridge of Ulvetanna really would be our last great climb.
To make a sad scene much worse, Stanley's widow, Meika was seven months pregnant with their first child at the time of his death. Having become a father myself less than a year earlier and with Jason Pickles joining the club a few months later the tragedy of Stanley's untimely passing has left a hole in my heart, and really made me question my values. We will not get to enjoy the greatest adventure of all; watching our children grow together and sharing with them all the wonders we have know. It's heart breaking.
This year at KMF in the same theatre where exactly a year earlier we had presented The Last Great Climb with so much joy I gave a lecture full of sadness in memory of the best climbing partner I've ever had recounting some the wonderful adventures I was so lucky to share with the unsung hero of modern Yosemite climbing, Sean "Stanley" Leary.
Here are 20 of my favourite photos of Stan and I from the epic days that we shared.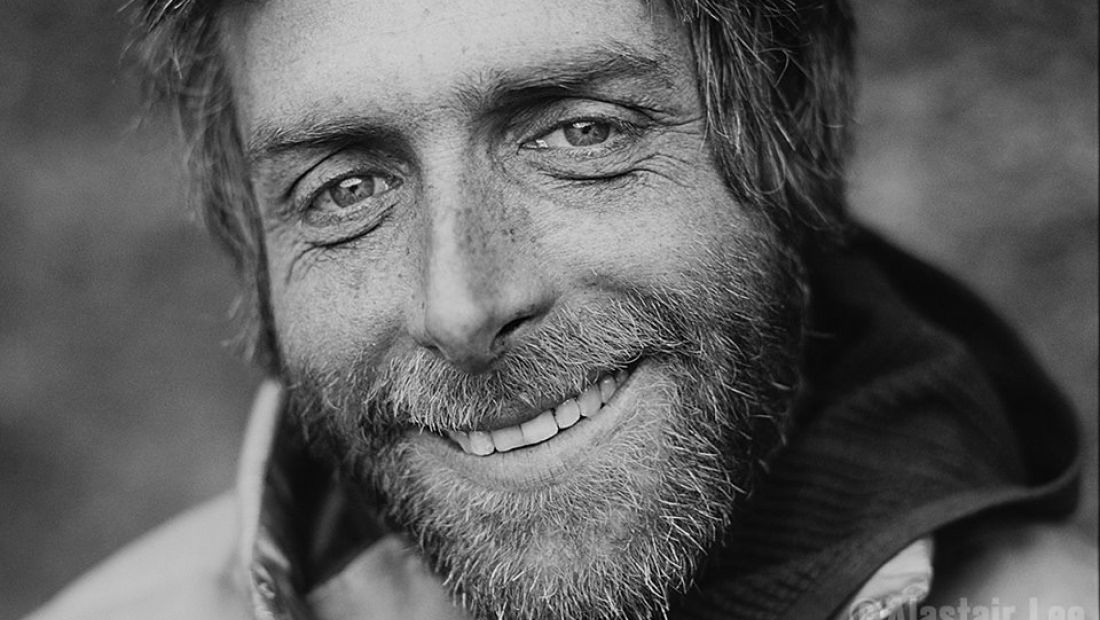 Sean "Stanley" Leary, 23/08/1976 - 13/03/2014, taken at the end of The Asgard Project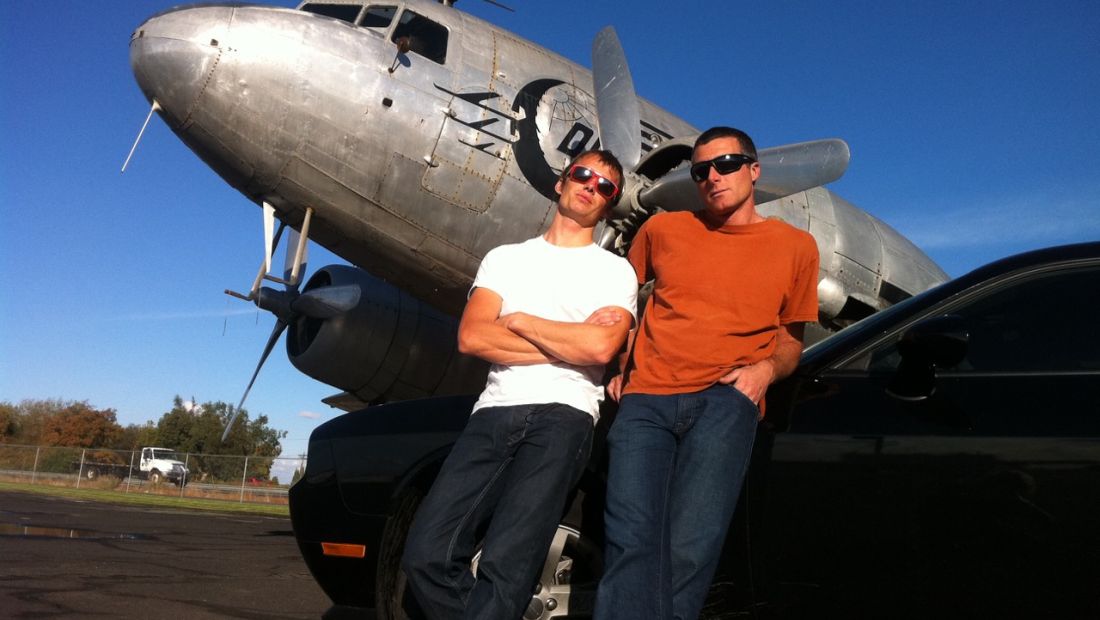 Lodi, California, Oct 2012. Lodi parachute centre is the cheapest, loosest & best Drop Zone in the world. Stanley & I jumped there together hundreds of times over the years learning new tricks and playing with new toys from the safety of an aircraft before progressing to the walls of Yosemite & beyond. Here we are posing with the retired DC3 jump plane and the fastest hire car ever, my Dodge Charger with a compared top speed! Photo - Leo Houlding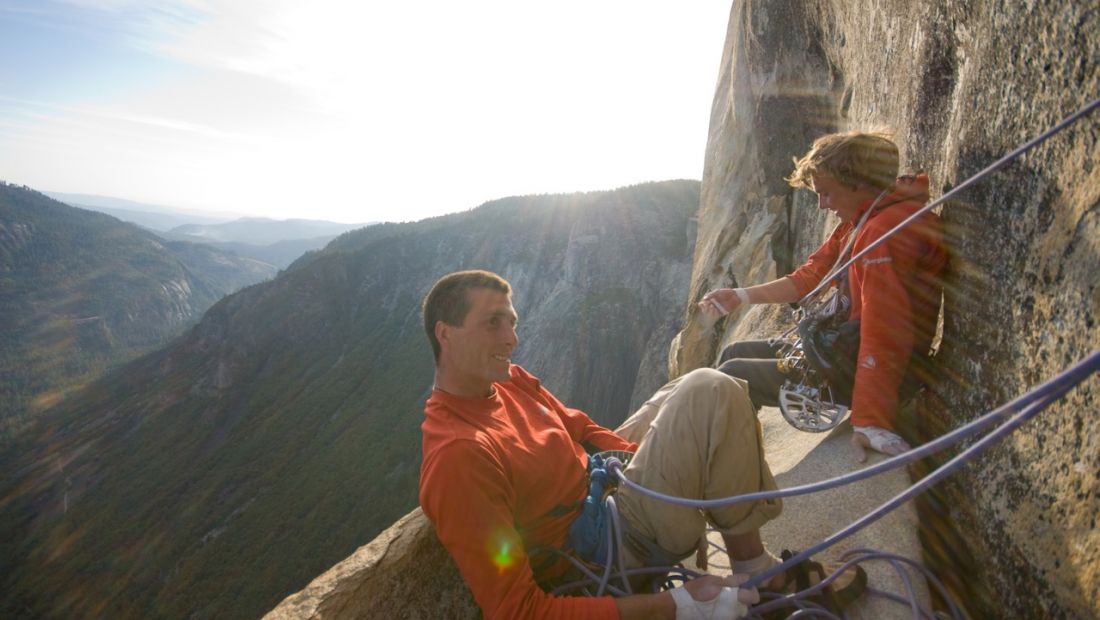 Freerider, El Capitan, Yosemite, 8/6/2008. Stanley & I met in Yosemite in the late 1990's and hung out a lot over the seasons. However it wasn't until 2008 that we first really climbed together and discovered a free, fast, flying & fun partnership that we went onto enjoy in some of the wildest places imaginable. On this day we free climbed the great walls of El Capitan & Half Dome & BASE jumped from both, a feat that would take most decent climbers a week in less than 24 hours. A good day. Photo - James Q Martin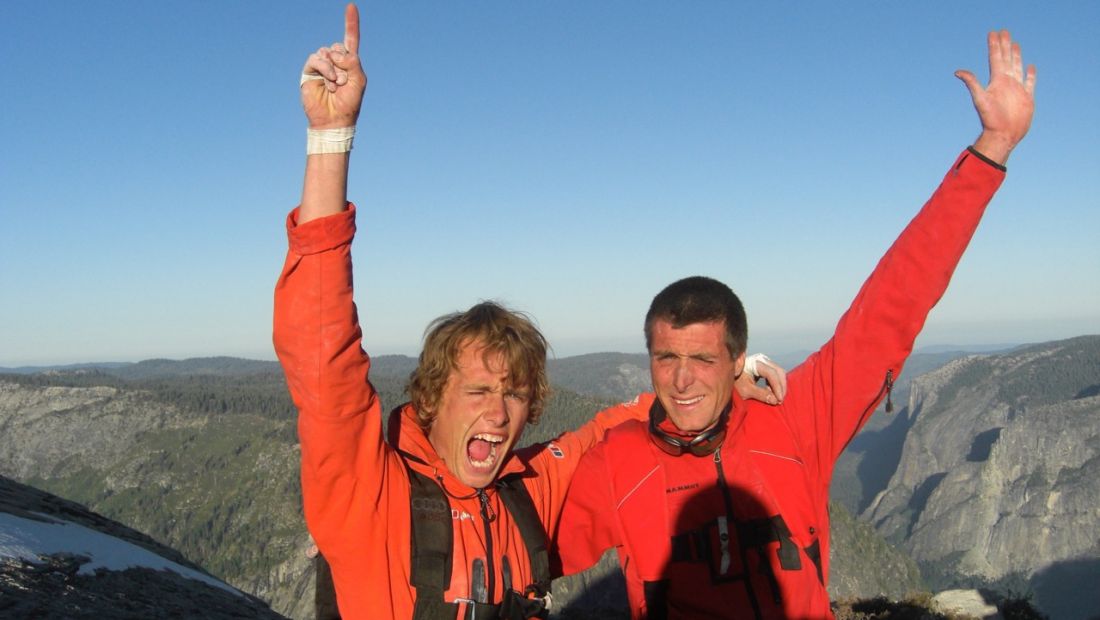 Half Dome summit, Yosemite, later that day. Having covered more than a mile of hard climbing in the previous 22 hours here we are about to make one of my all time favourite BASE jumps; the NW face of Half Dome. SO much fun. That evening we discussed the idea of taking the big wall free climbing, speed climbing and BASE skills we had learned in the comfort of California to other extreme playgrounds in less hospitable environments. Photo Leo Houlding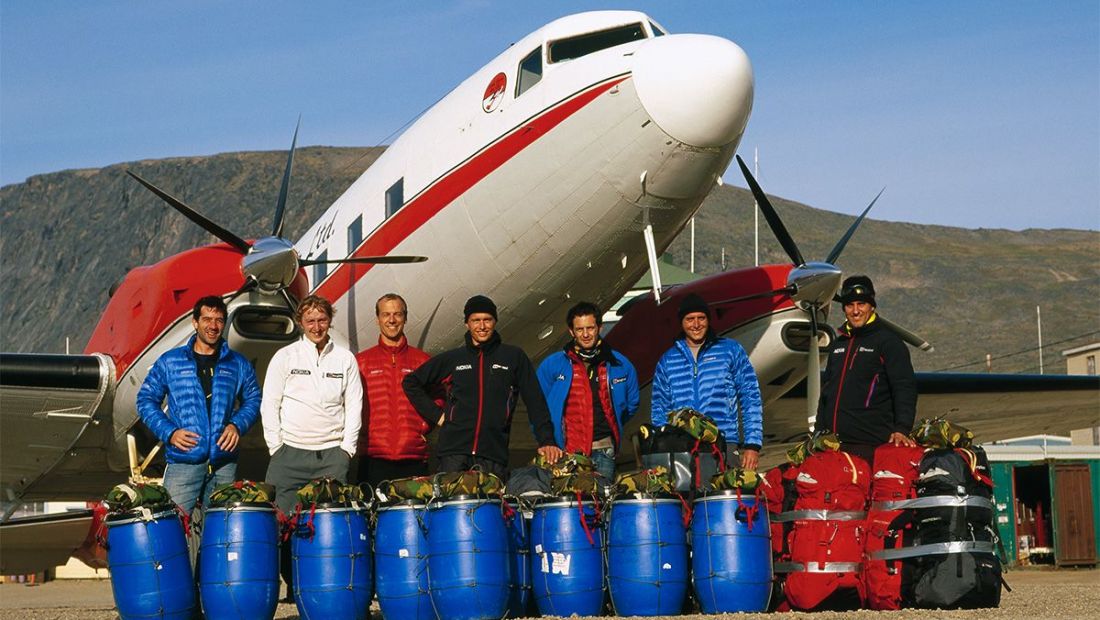 Pangnirtung airstrip, Baffin Island, Arctic Canada. 1/8/09. Alastair Lee, Ian Burton, Chris Rabone, Leo Houlding, Jason Pickles, Sean Leary & Carlos Suarez reporting for duty at the beginning of The Asgard Project. Originally we hadn't planned on chartering Indian Jones plane of choice (another DC3) but unforeseen circumstances forced an expensive change of plan. Sometimes the worst problems cause the best results. We airdropped the loads to the foot of Mount Asgard with parachutes that cost $25 from eBay and came with notice saying "DO NOT use for ariel delivery". Thankfully, they worked. Photo Alastair Lee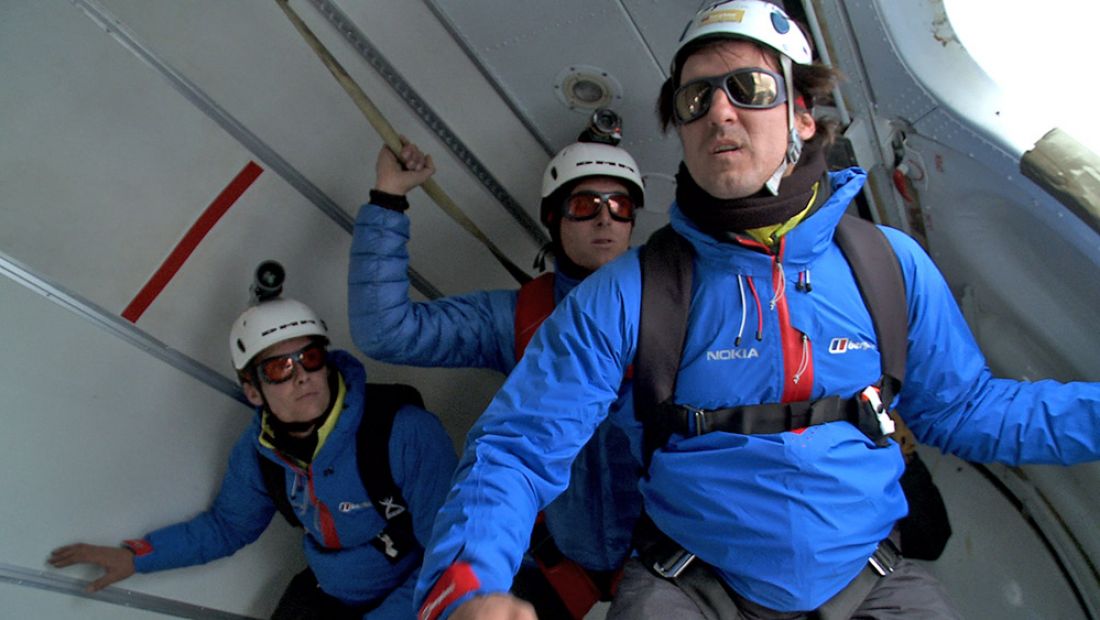 "3, 2, 1 EXIT" Myself, Stanley & Carlos about to skydive out of the retrofitted DC3 into the arctic wilderness and land at the foot of Mount Asgard, hundreds miles from anywhere. Probably the biggest adrenalin rush of my life or "F*$£ing SICK!!!!" as Stan would say. Photo Alastair Lee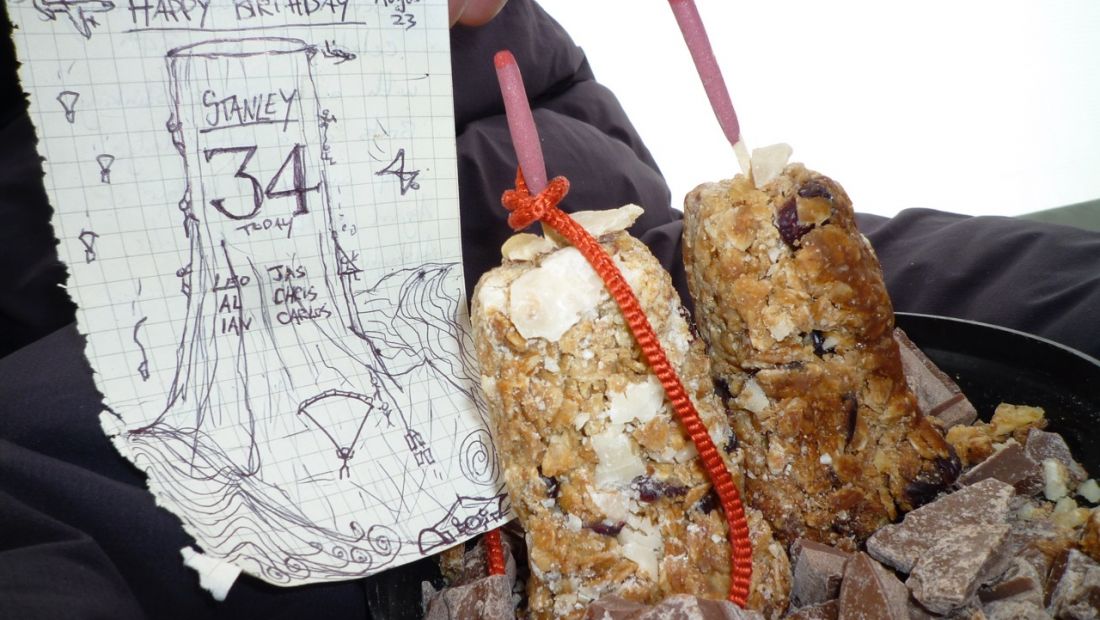 Port-a-ledge Camp, 500m up the NW Face of Asgard, 23/8/2009. Although it was mid August, on the shaded north facing wall far inside the arctic circle we experienced pretty much full winter conditions. Not fully prepared we got our arses kicked, but still managed to succeed in our primary objective of having a really good laugh on a epic adventure in a really wild place. We celebrated Stan's 34th birthday in subzero temperatures in a hanging port-a-ledge camp with an improvised Asgard cake made from flapjack and wee dram of Single Malt. Photo Leo Houlding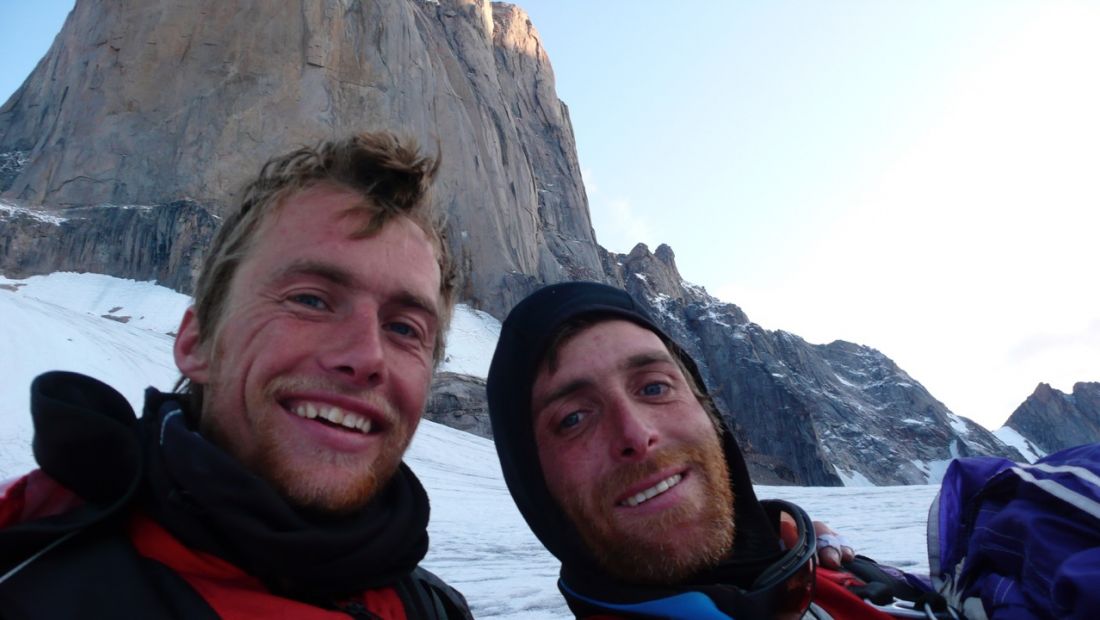 In the opening sequence to the 1973 James Bond movie The spy who loved me, 007 skied off Mount Asgard with a union jack parachute. When I first saw the film as a boy I thought "that is the coolest thing I have ever seen, one day I'm going to do that!". 20 years later, we did. I love this selfie of Stan & I moments after landing safely from our wing-suit BASE descent of Asgard following 12 hard days climbing the north wall. That night we slept wrapped in our parachutes spooning as it was freezing and our sleeping bags were still on the wall. The others took 2 further days to descend cleaning all the ropes and kit. Photo Leo Houlding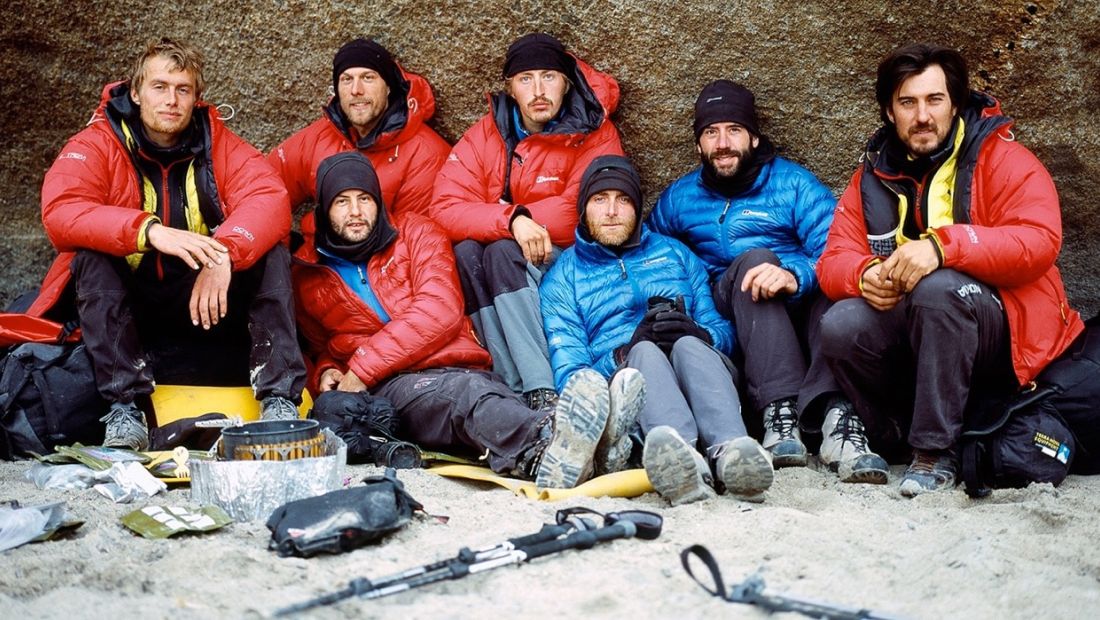 My Asgard crew just before our boat pick up after having spent 30 days of hardcore adventure together in the wilderness. You cannot buy that feeling. It is hard-earned and priceless. I love how it looks like it could have been taken by Sir Chris Bonington in the 1970's. Photo Alastair Lee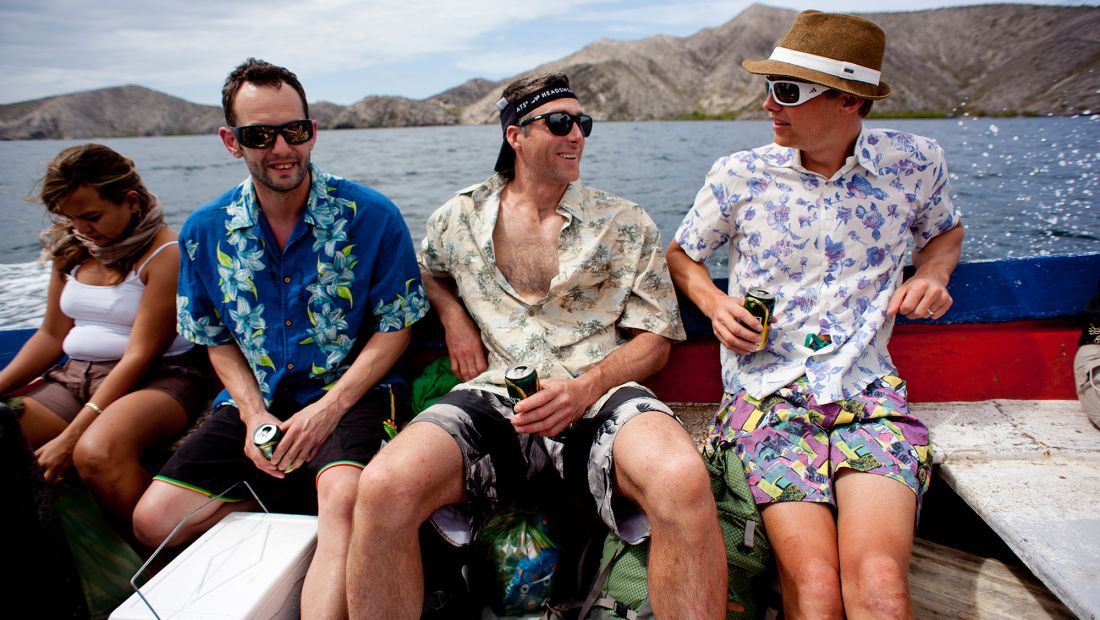 Venezuelan Caribbean, Jan 2012. In stark contrast to the jungle horror show that would soon commence our Cerro Autana expedition couldn't have started more differently, Deep water soloing in paradise. We had to smuggle our kit into the prohibited Autana region without a Gringo escort so whilst Yupi & Alejo our Venezuelan partners were busy bribing check points and dealing with very shady characters we were living it up i the Caribbean DWS & partying. BTW we are intentionally dressed like gringo tourists for cinematic effect and yes, we did end up getting mugged at gun point. Photo Alastair Lee
Puerto Ayucucho, Amazonas, Venezuela. The expedition really began when we met this guy, El Shaman Piaroa, a revered shaman / spiritual leader of the Piaroa tribe of Western Venezuela. The local Indians insisted we partake in a sacred 'Yopo' ceremony to check our intentions were pure before they would allow us access to Cerro Autana. Yopo is the most powerful hallucinogen know to man. The night of the ceremony was the longest,most terrifying & most powerful experience of my life. Amazingly after a quite literal 'mind blowing' ordeal the Indians concluded we were OK & helped us with our adventure.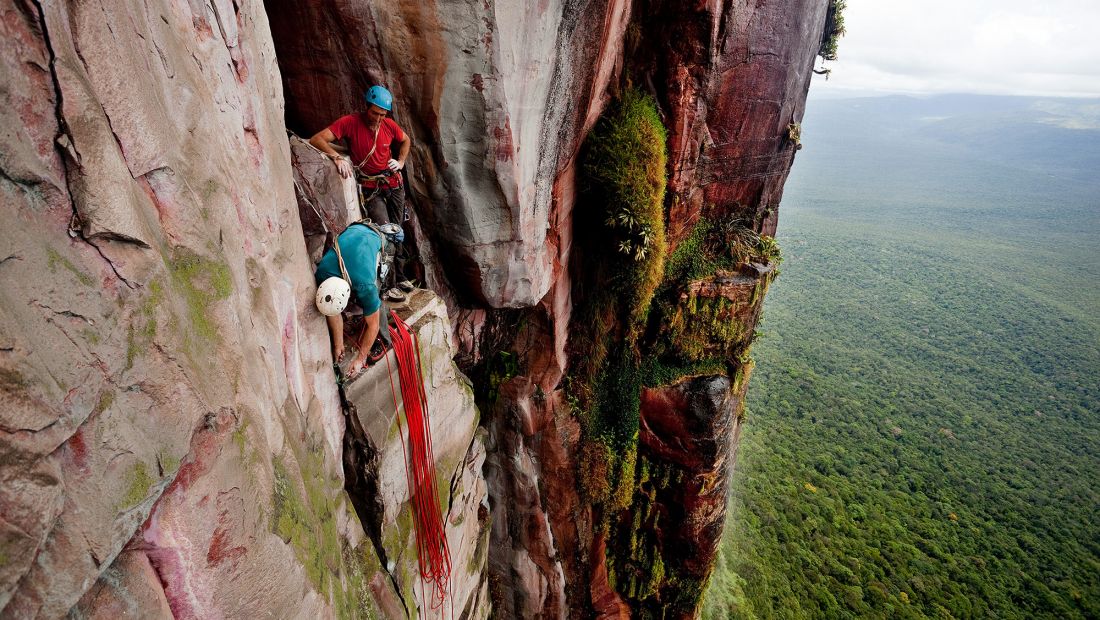 Second belay on "Yopo Wall" East Face of Cerro Autana. There is nothing better than find a decent ledge on a steep wall, especially when you are somewhere as wild as this and you know nobody has ever been there before. Looking out from this ledge there is nothing but uninhabited jungle for hundreds of miles. Climbing a jungle wall presented lots of unique problems, vegetation, snakes, wasps, waterfalls but was at the same time a magical experience, so full of life and exciting. Photo Alastair Lee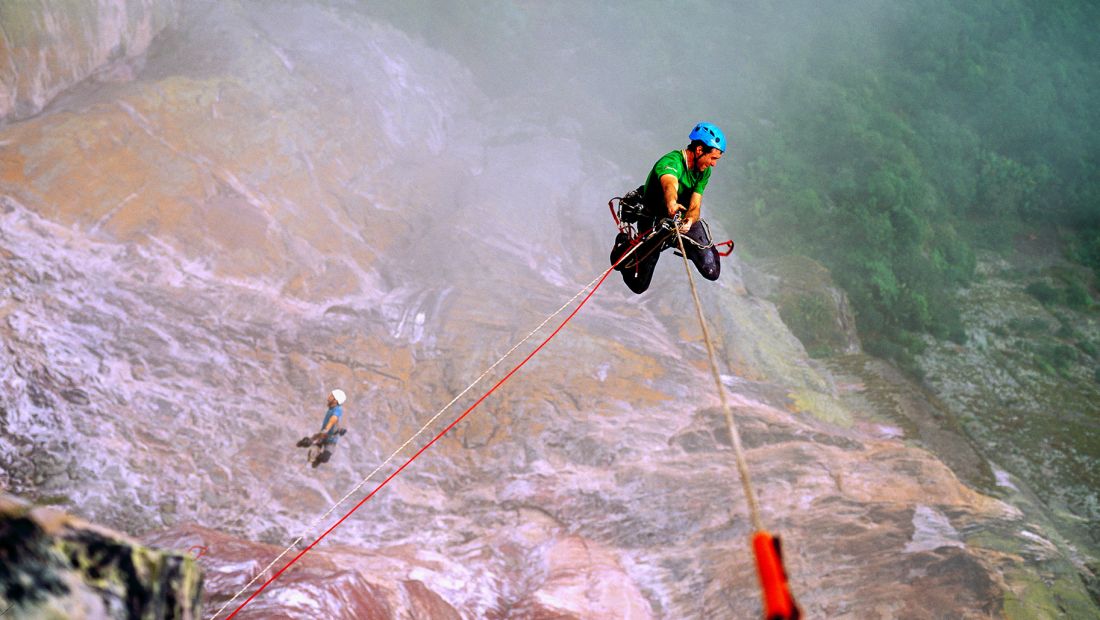 Above the amazing cave (the best wall bivi ever) the wall was by far the steepest cliff I have ever climbed overhanging horizontally about 100m in 200m of vertical height. Progress was slow at about 2 pitches per day but we managed to weave our way through the giant ceilings climbing free at about E6. Each night we would descend to the cave and each morning ascend an increasingly wild line of ropes through space to our high point. Here Stanley & Jason hang like puppets on string thousands of feet above the virgin jungle. Tripp. Photo Alastair Lee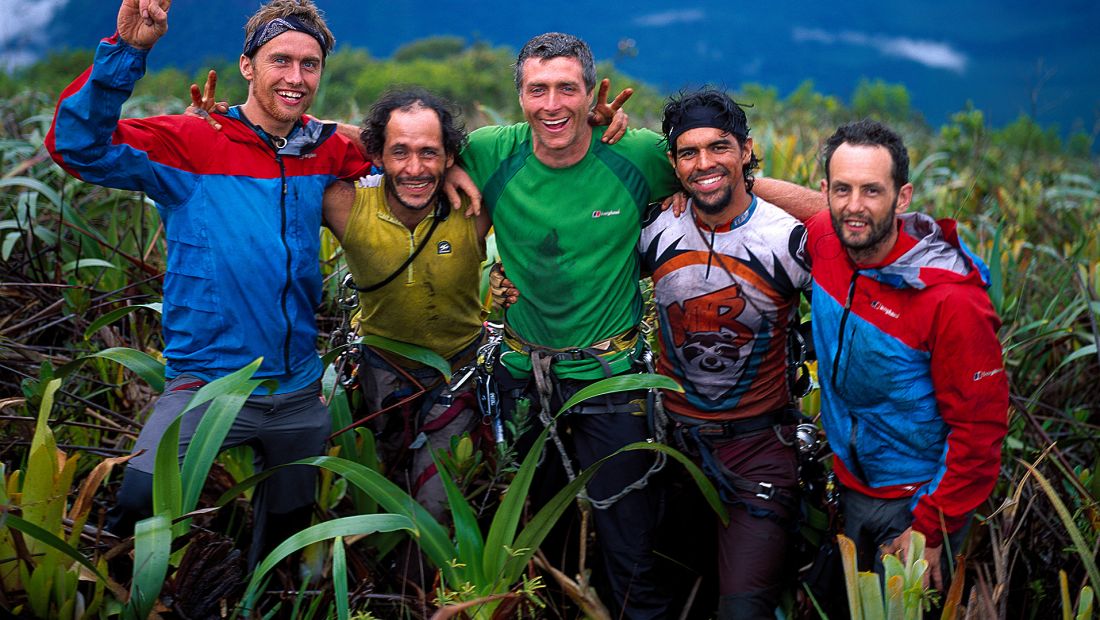 Leo, Yupi, Stanley, Alejo & Jason on top of a mother hard earned summit.
From the Amazon we went a few weeks later to the Arctic in training for Antarctica. Here Satn, Jas and I explore an iceberg frozen into the seas ice - no it is not a studio set made out of polystyrene or is it?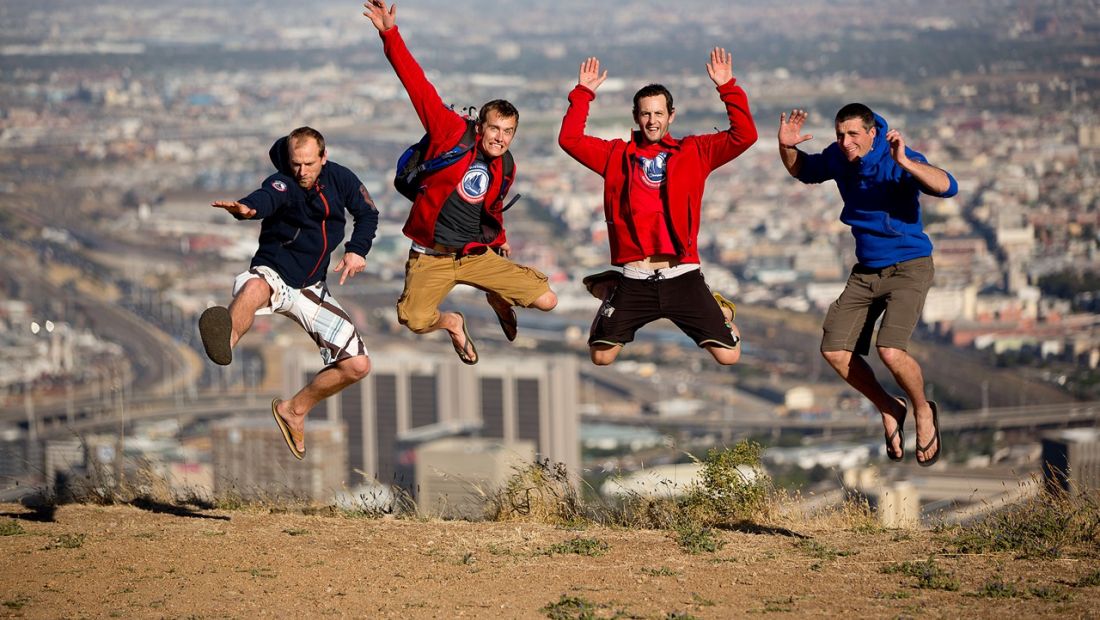 Cape Town, South Africa, Dec 2012. A 6 hour flight due south takes you from the heat of the Cape Town summer to the cold of the White Desert of Antarctica. Chris, Leo, Jason & Stanley express their excitement at the prospect of finally realising the life long dream of visiting the other worldly peak of Queen Maud Land, Antarctica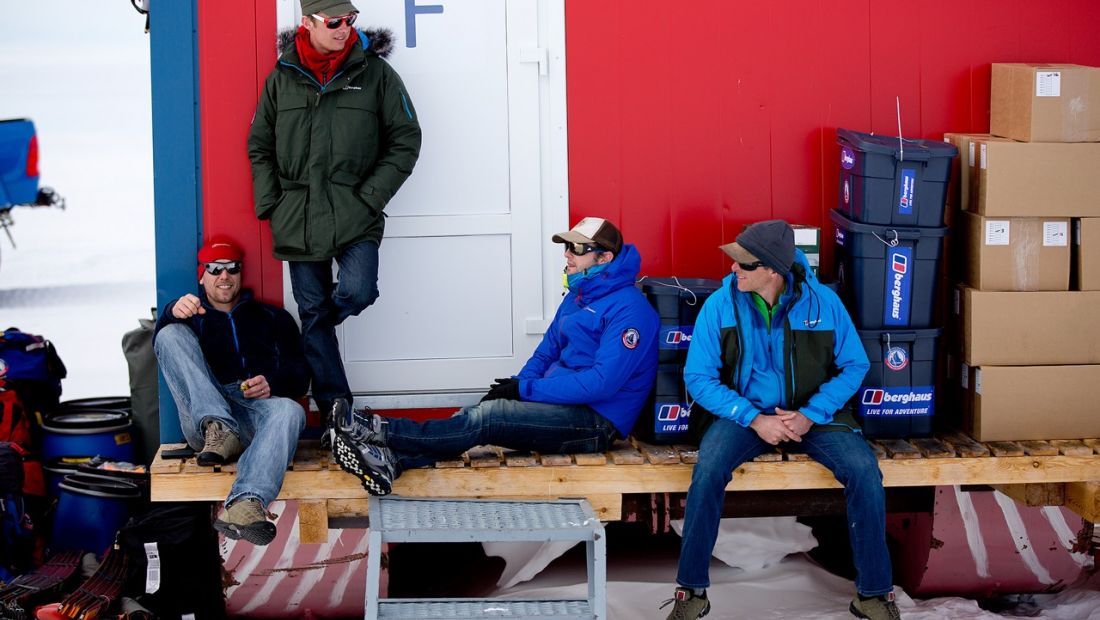 Novo, Queen Maud Land, Antarctica was our first stop on the continent. A strange place this Russian base is the main logistics hub for everything that happens is East Antarctica. A collection of shipping containers, dilapidated heavy machinery and gnarly Russians exist to maintain a blue ice runway capable of accommodating intercontinental flights. Whilst we were there we decided to set up a boy band "Wrong Direction", I'm the lead singer.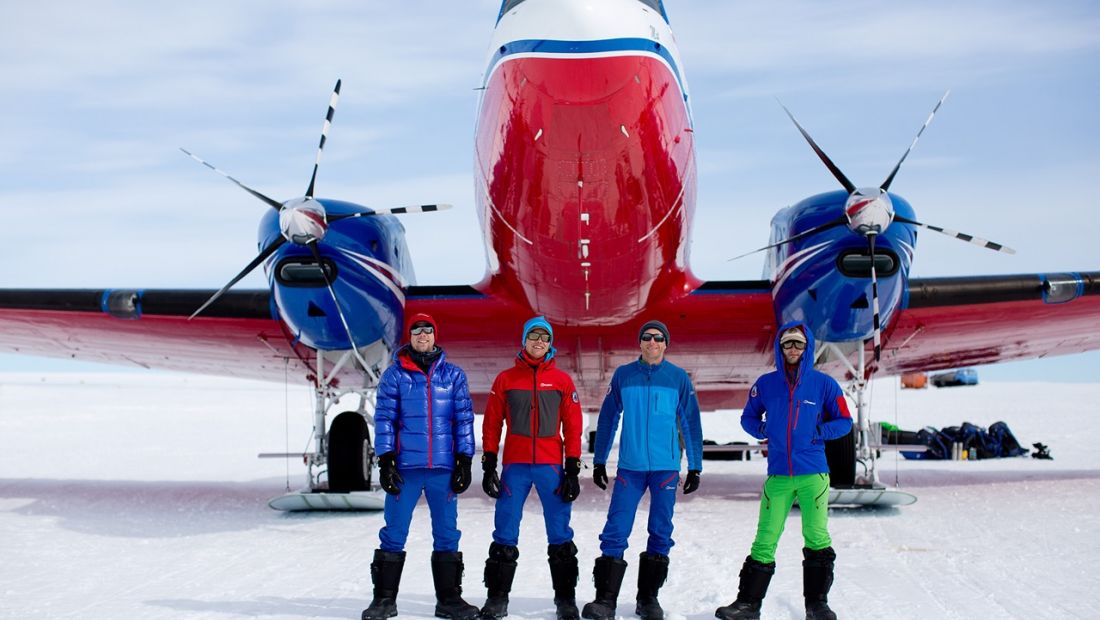 Another DC3!!! Actually a retrofitted DC3 called a Basler 69, our ride into the interior of Antarctica and the start point for 35 epic days spent together as a team working towards a common goal; making the first ascent of the awe-inspiring NE ridge of Ulvetanna and capturing the adventure in world class imagery and film. Good work Alastair Lee. Believe it or not - it was the same pilot that dropped us into Asgard 5 years earlier!!!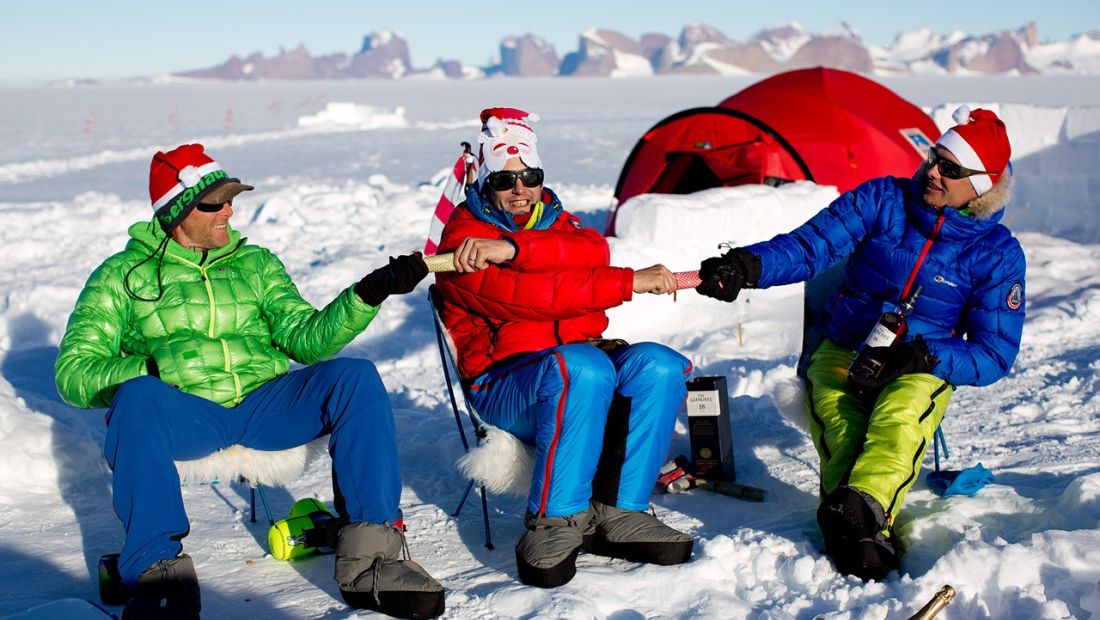 We celebrated Christmas 2012 in Ulvetanna Base Camp in style with fine Whiskey, Christmas crackers and Santa Hats. This was our third major expedition together and we worked, played and partied so well together.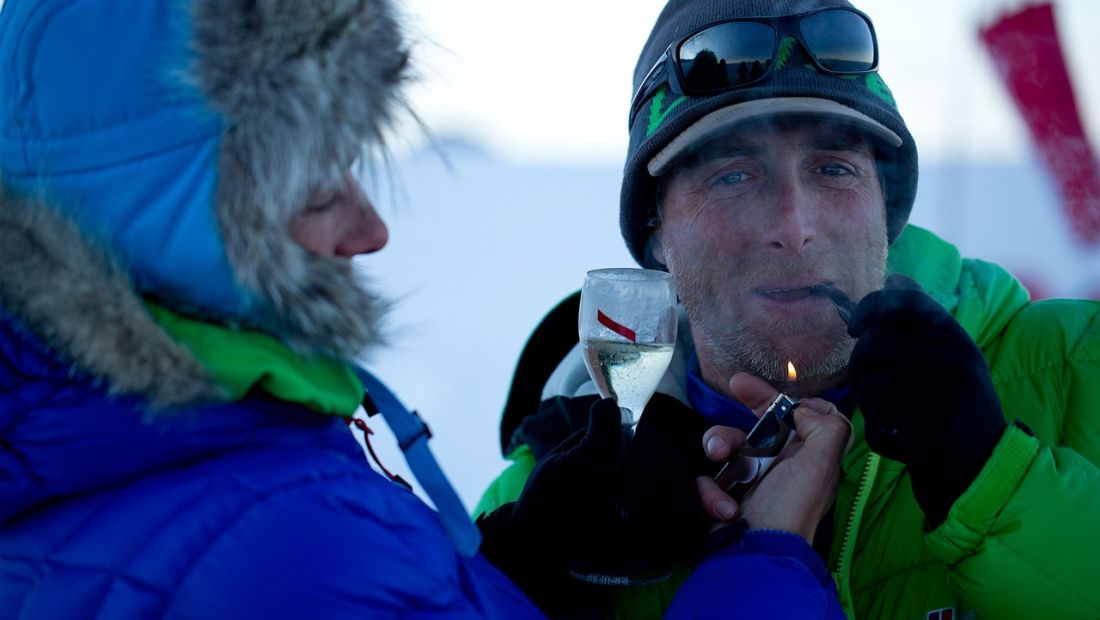 Midnight New Years Eve 2012/13. Champagne, explorers pipe, girly lighter and best friends. A great way to start the year. The Champagne was freezing in the glass as we drank.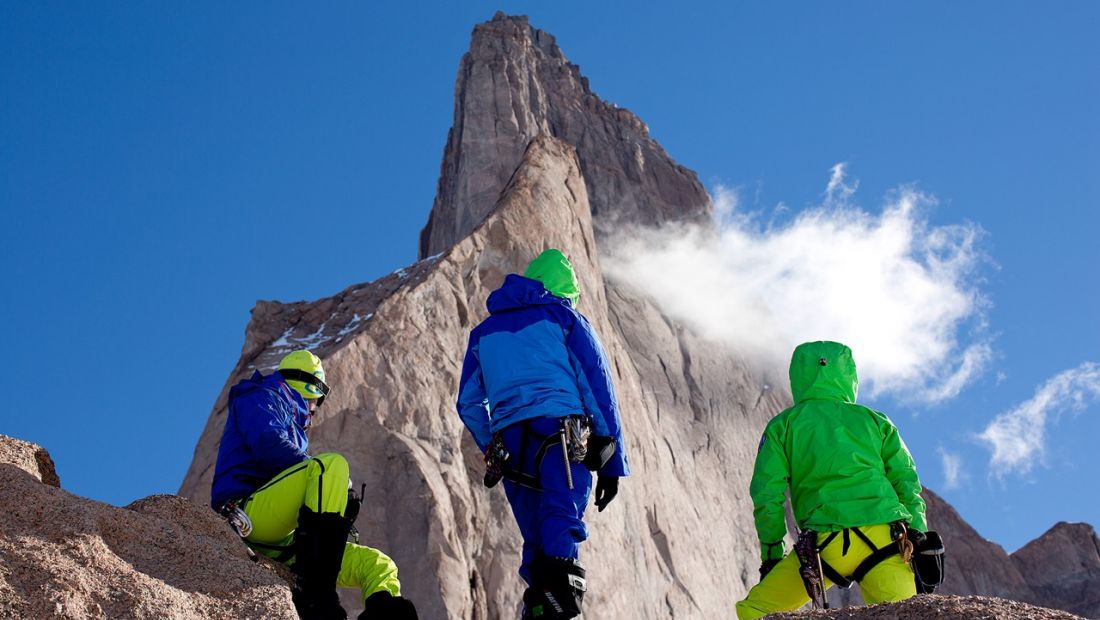 Jas, Stan & I contemplate the massive NE ridge of the"Big scary mountain" a truly epic mission.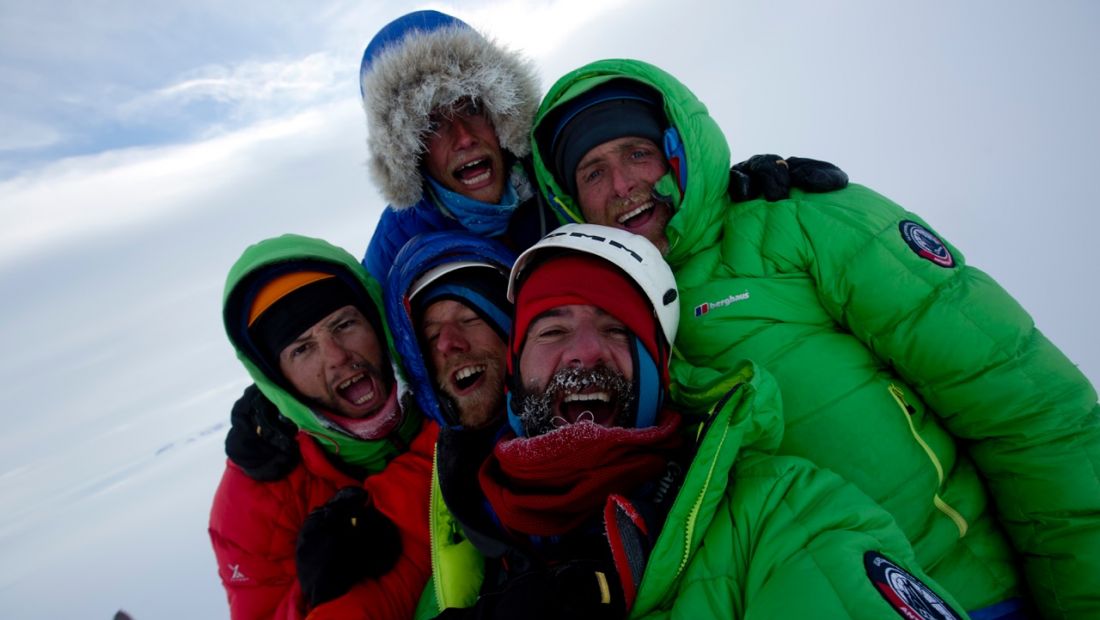 Almost a month later and over a mile higher we celebrate the most elusive and hard earned summit of our lives. It was -35˚C but that didn't stop us celebrating. So very far from home and along way from safety, from here on we are making our way back victorious!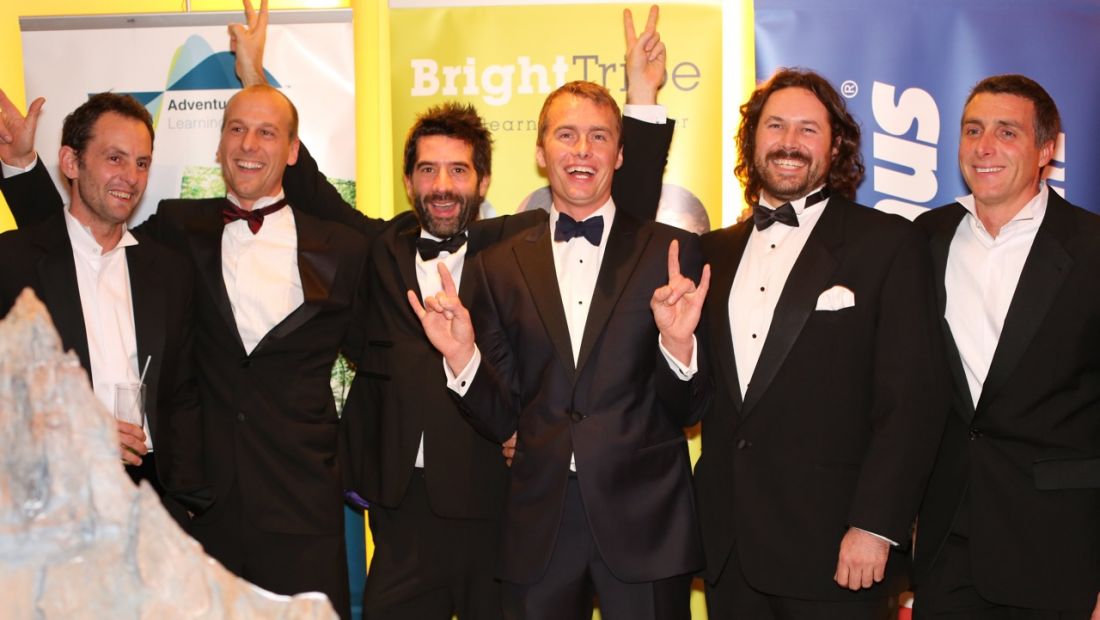 The whole crew together again for the world premier of Alastair Lee's masterpiece "The Last Great Climb" in Leicester Square in November 2013. Stanley died in March 2014. It really was our Last Great Climb.